Last year, The Wine Shoppe on Charlotte was invited to join RJ Spagnols' top 100
Craft Winemaking retailers in Canada, as part of the RJS Academy.

In August, Jennifer and I gladly attended the Academy's first national conference, along with our fellow RJS Academy Members in the Okanagan Valley. In addition to sampling some fantastic British Columbian wines and enjoying the picturesque landscape, we were given some exciting news!
We learned that we will soon have an exclusive line of wine varietals available to us, and only to those in the RJS Academy! Stay tuned for more details on this new line of 10 wines, coming to the Wine Shoppe this fall!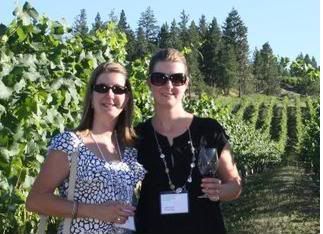 In the vineyards at See Ya Later Ranch near Penticton, B.C.


Click HERE to read more about the RJS Academy.
This past spring and summer, we have hosted many private Customer Appreciation Wine Samplings. If you haven't yet attended, there are still more events in the works!
Click HERE to sign up for more details!
Cheers!
Sarah, Jennifer & Staff